NEWS
From BalCCon2k18
August 30th 2018
This year on BalCCon, together with Radio Amateur club "Zrenjanin" we will organize exam for the radio amateur license. Because the exam is only on Serbian language the announcement and literature is on Serbian language.
You can sign up for exam by submitting a email at jelena at balccon.org
Email subject should be - Exam BalCCon2k18
Please fill in the form with the following link Personal Information and send it as attachment.
Literature for the exam you can find on:
August 26th 2017
LIGHTNING TALKS with Nick Farr
On BalCCon2k18, we want everyone to have an opportunity to speak!
So we are soliciting short, but engaging 5 minute talks – Lightning Talks – from any and all attendees.
The Lightning Talk format provides very personal, concise thoughts, ideas or calls for action. Typically speakers use lightning talks to talk about their experience, their opinions or for a wake-up call towards the agile community and markets.
Format
Everyone can speak at Balccon! Tell us about your project, idea, plans or your best jokes, just make sure you have a slide deck and keep it under 5 minutes!
Proposal Now it's your turn!
Send an email on jelena (at) balccon.org with
Subject: Lightning Talk - BalCCon2k18
Name:
Language of your Presentation
Keywords:
Abstract:
Relevant Links (Project Page, etc.):
August 23rd 2018
Retro Computer Hackerspace

If you want to make a SCART/video/audio cable for your favourite retro computer, or maybe to install/connect Gotek drive, or to install Workbench with PFS file system to your Amiga, or anything else that you are not sure how to do it, bring your equipment to Retro Computer Hackerspace, we will try to solve the problem together. We cannot guarantee that it will be solved, but we will try our best (serious electronic problems probably won't be solved, sorry). Maybe you have something that is interesting to you on your retro machine, bring it and show it.
If you are not sure if your problem is something that organizers could solve, send your request to : zzarko at lugons.org.
If you want to bring your own retro computer to show off, also send an e-mail, so we can allocate space for you.
August 9th 2018
Here it is - The official BalCCon2k18 T-shirt design!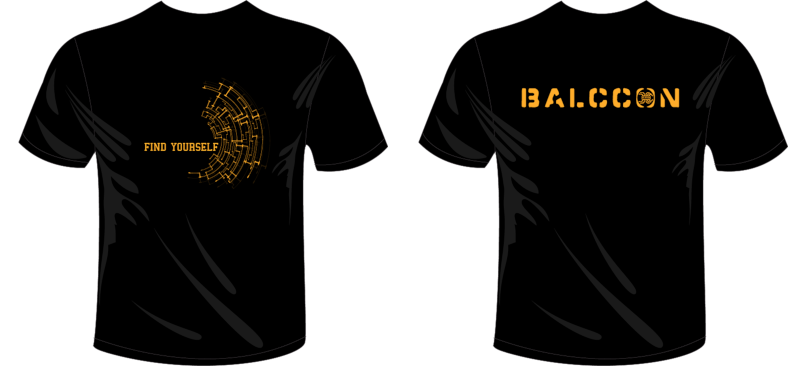 August 4st 2018
ASSEMBLY
On BalCCon2k18 we want to put also focus on groups meeting and discussing topics. For many groups it was hard to find a decent home base to discuss ideas and get new folks interested in their community. For interested hackers it became harder to find someone to talk to, as everyone was wandering around.

We have a solution for that:
"Hackerspace" on BalCCon
We want to capture the camp's spirit in semi-open assemblies called "Hackerspace" ;)
So, if you are a group of hackers who like to work and hang out together, bring your toys, work on projects, have fun and let others participate in what you're doing!
How to reserve space
Please let us know what you'd like to do, how much space you'll need, what you'd like to bring with you, how much power your gear will consume, etc… Keep in mind: The more you tell us about your plans the better your chances that you'll actually get what you want.
send an email on jelena (at) balccon.org with subject BalCCon2k18 Assembly
Be aware: Only Assemblies that were added until 10th September will get an own place!
So we bring our projects and set up workshops and so on?
Yes, sharing your knowledge and showing other participants about your projects is central for everything going on at the congress. If people in your Assembly want to offer workshops or maybe lectures on a small scale, maybe there'll be enough space for you to integrate a workshop area into your Assembly. For bigger workshops there will be workshop room.
Great, we will bring ALL THE THINGS!
Be aware that the space is limited. But assemblies are invited to bring their toys and also to decorate their spot on the Congress – as long as everything you bring with you does not block exit paths and is not inflammable. These two requirements are important, and if your installations don't fulfill them, we'll be forced to remove them.
Yes, we will do some workshops!
If you would like to have small-scale workshops in your Assembly, tell us what you're planning and for how many people. Please be as specific as possible. We will probably not allocate extra workshop space for your Assembly, if you haven't published something like a schedule on your Assembly page. For now it will be sufficient to list topics and speakers, later we'd like to see a timetable as well.
How about a projector for our area?
We will not provide projectors, canvas or anything apart from chairs and tables, but probably you've got those anyway.
List of already registered assemblies
Coming soon!
================================================================================================
July 01st 2018
Three day tickets are available for pre-order
There is limited amount of tickets and will be sold on first come first served basis. To avoid waiting in long lines we urge you to come in early in the day.

You can buy or pre-order tickets on the following link:

We'll also sell tickets on site. Just show up at BalCCon2k18 and buy a ticket on the cash desk.


We'll also sell tickets on site. Just show up at BalCCon2k18 and buy a ticket on the cash desk.

More info about Tickets you can find on

Tickets.